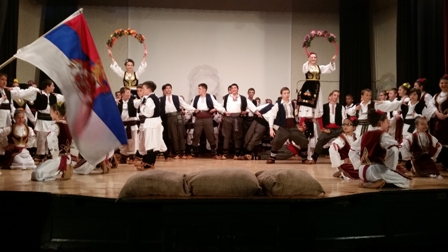 In an event called "Cer and Kolubara: In honor of the warrior" Serbian community of Chicago marked the 100th anniversary of the First World War. Bishop Longin and Consul Dejan Radulovic spoke about the Great War and the contributions of the famous Serbian army.
Actors of the Serbian Theatre group "Mira Sremcevic" from Chicago, Choir "Branko Radičević" and the folk ensemble "Soko" performed in the program.The celebration was held at the main hall of the Amundsen High School in Chicago.
The event was organized by the church Cathedral of the Holy Resurrection of Christ and their parochial school, in cooperation with the Consulate General of the Republic of Serbia in Chicago.