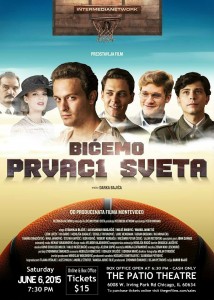 Film "We will be world champions" will premier in Chicago on June 6, 2015. This will also be the American premiere of this film. The film will be shown at the Patio Theater, 6008 W. Irving Park Road, Chicago, IL 60634, beginning at 7:30pm.
"We will be world champions," directed by Darko Bajic, is a film about the birth and rise of the Yugoslav basketball. The central event of the film is the crucial World Cup match in 1970 between Yugoslavia and the United States.
Consulate General invites all film lovers to take advantage of this opportunity and see the latest film of the Serbian cinematography.
More about the screening of this film in Chicago can be found here.