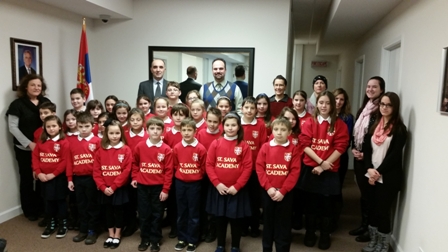 On the occasion of the National Day of the Republic of Serbia the Consulate General was visited by the students of Serbian "St. Sava Academy" in Chicago. A group of students in lower grades, headed by Director Marko Bojovic and their teachers were received by the Acting Consul General Dejan Radulovic.
Acting Consul General explained to the students the importance of celebrating the National Day and introduced them to the historical events related to this holiday. In addition, students were interested in talking about the role and mission of the Consulate.
School director Marko Bojović gave his thanks for the reception and expressed satisfaction with the cooperation of the school with the Consulate General.